The new carrier dashboard in Ivans Exchange™ provides insights into download and agency adoption in a visual and user-friendly dashboard format, allowing you to easily dig into each report and gain a deeper understanding of your download activity.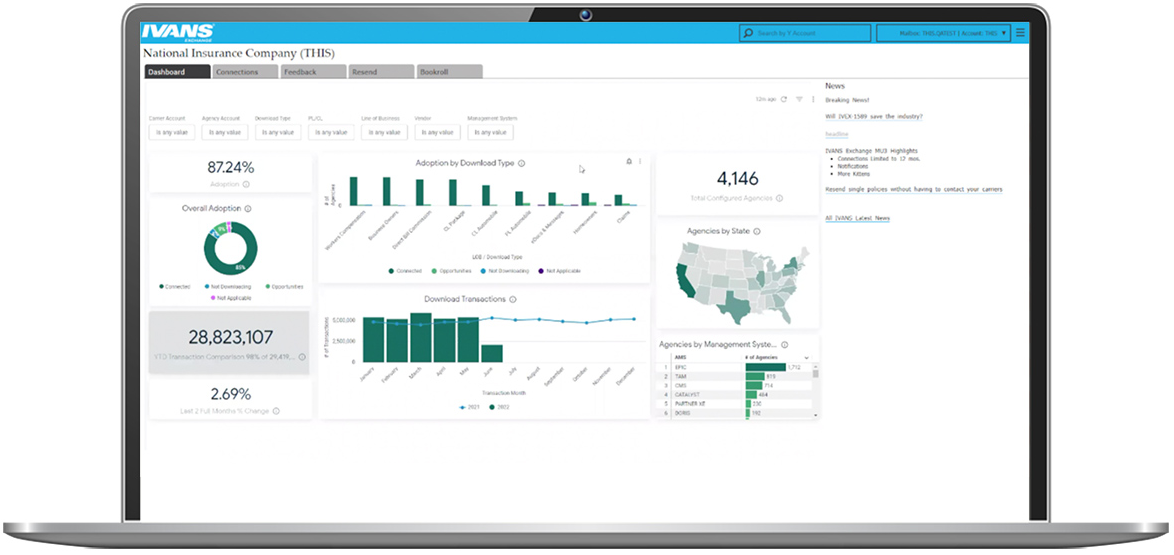 "With this updated dashboard, we hope to spark curiosity about download adoption and help start conversations about where there is opportunity to be a better partner with agencies," Ivans Director of Product Management Heather Prabish said. "These dashboards ignite that curiosity through their visual appeal and easy-to-use filtering and data exploration capabilities."
If you need more reasons to explore these new dashboards, check out these great new features:
Comprehensive filters: You can easily filter your dashboards by agency Y account, download type, Personal Lines and Commercial Lines, line of business, vendor and agency management system. You can even view details about an agency by state.

New adoption information: We heard your requests and updated the adoption reports! The adoption report does not count an agency as a connection if the agency management system does not support specific download types. These reports now feature total potential connections available with your downloading agencies.

Delve into opportunities: You can also see agencies that are not downloading with you or other carriers, and agencies that are downloading with other carriers – allowing you to view download opportunities for your business easily.

Alerts based on selected criteria: Do you want to be alerted when criteria you create is met in the dashboard? This is simple in the new carrier dashboard with the alert feature.

Automated dashboard delivery: Whether you want to get updates to your inbox on certain days with updated dashboards or share with co-workers who don't have access, you can do so with automated dashboard delivery options.
"Along with its modern design, this versatile dashboard gives carriers an effective way to visualize their Ivans Exchange data and ultimately improve connectivity, efficiency and end-user experiences," Ivans Senior Director of Product Management Thorsten Camp said.
Get a Sneak Peak
View our demo to get a look for yourself and see how these dashboards will help you get the clear and detailed download insights you need.
Dara Bradley

Product Marketing Manager

Dara Bradley is the Product Marketing Manager for Ivans. She brings over a decade of insurance technology experience to her role. She holds a bachelor's degree in business and economics from Lafayette College in Easton, PA.