Many sectors of the insurance industry came together for Insurtech Boston in May – creating the perfect opportunity for insightful sessions and conversations on how we can all work together to push the industry forward.
In the first blog post in a series based on the Insurtech Boston panel sessions, find out what our expert panel had to say about insurance agencies, brokers and technology adoption. The panel speakers included Agents Council for Technology Director Chris Cline, Alera Group Partner Val Feeney, and Eastern Insurance Group VP/Digital Experience Manager Traci Maslanka.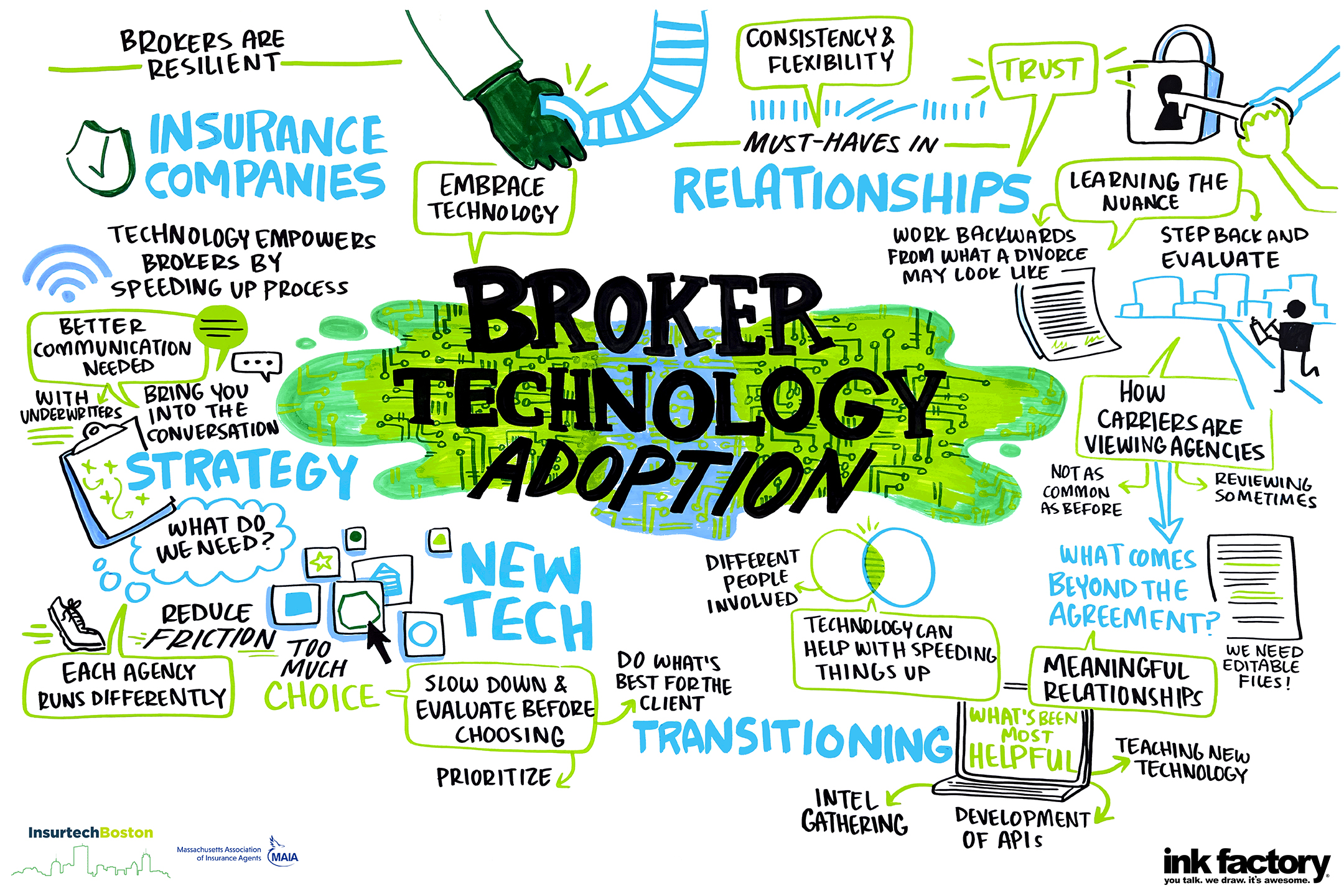 Insurance Companies
Agencies haven't always been a big part of the insurtech conversation – if at all. The industry has realized we all need each other to spark the most connectivity and value.
"Instead of being defensive, we've embraced the fact that technology allows us to perform the best for our customers. If we want to give the best experience, the only way we can do that is to use the best technology," Val said.
Agents Council for Technology Director Chris Cline, who has been on the carrier side and is now working as an agency advocate, said he has also seen brokers included more in the tech conversation recently.
"I don't think we've been invited enough, so it's great to see brokers here as a part of this conversation," Chris said. "I've spent the vast majority of my career on the carrier side, and I don't think agents and brokers felt they had to embrace tech the way other industries have. The broker side is resilient and stable. It's been fascinating to think about what's going on here. People have been saying the broker is dead, which is simply not true."
Strategy
Change management is key for carriers, brokers, agencies and insurtech partners. This includes bringing everyone to the conversation early and often.
"Bring us to the table, let's talk and figure out what we need and what our clients need and how we can help, whether it's download or integration with agency management systems," Eastern Insurance Group VP/Digital Experience Manager Traci Maslanka said.
Chris says there is a two-pronged approach to strategy.
"Before adoption, there is choice. I think about Clark from the Christmas Vacation movie. He bought every decoration, plugged them in, and nothing happened. There was no strategy. What's happening is why agents might not have been involved," Chris said. "There's too much choice and too many things to think about. The agencies that are getting through are slowing down, taking a deep breath, aligning with strategy, and using the data they have at their disposal."
The Shift in Technology
Technology has been advancing for years in the industry, but this was especially true during the pandemic with everyone shifting to working from home. Traci said she thinks the most significant advancement between brokers, agencies and carriers in the past five years is technology that has helped with this transition.
"We had to provide every tool out there and train with guidance from the technology partners," Traci said.
Val said intel-gathering technology has also been key in recent years.
"It helps us build a profile for our prospects before meeting them," Val said.
And Chris pointed out the importance of API-powered technology.
"APIs allow platforms to integrate and share data," he said.
Relationships
Trust, consistency and flexibility were themes in our conversation about must-haves for industry relationships.
"Trust is the biggest thing," Traci said. "You have to know if there is a claim or an issue that the person will pick up the phone. You also have to trust agencies will not pull a 'fire alarm' every time something goes wrong."
Val pointed out that trust goes hand-in-hand with consistency and flexibility.
"If someone is consistent, you can forecast how they would react to a situation in grey areas. If they're consistent and up-front and something falls into a grey area, the flexibility to help you win business goes a long way. Their flexibility creates that trust, and you have that relationship that makes you want to win business for that carrier," Val said.
More From Insurtech Boston
Look for more blog posts in the future based on our superb panel sessions from Insurtech Boston. Find out more in our event recap blog post and on the Insurance Technology podcast featuring Insurtech Boston founders Mike Albert and Allan Egbert.
Saima Shaukat

CRO

Saima Shaukat, Chief Revenue Officer, leads Ivans' sales and services functions and is instrumental in Ivans' go-to-market strategy. Saima brings more than 21 years of SaaS sales and marketing experience, with a proven track record of scaling revenue strategies. She also brings deep domain expertise from her roles as TechCanary's Chief Revenue Officer (CRO) and Salesforce's General Manager and Vice-President of Financial Services.